Mr. Frog Page 2
Mr. Frog's Travels
Mr Frog
Mr. Frog has had an exciting time travelling the world with his minder, John. He's been to lots of places, as well as staying at home in Wales and helping John read stories to children in the library.
Here are some pictures of Mr. Frog on his holidays, at work, and with some famous people.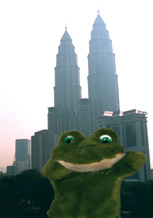 In front of the Twin Towers, in Kuala Lumpar, Malaysia.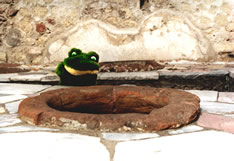 At Pompeii, in Italy.
At the Taj Mahal, In India
On a boat in Udaipur, India.
Helping John read a story in the library.

With actress Gillian Anderson
from The X Files.
India Udaipur Taj Mahal Diu Gujarat Mr. Frog Penang Malaysia KL
Click on Mr. Frog to jump to the top of the page!

Kuala Lumpar library travel Pompeii Capri