Mr. Frog's Travels
Mr Frog
Mr. Frog has had an exciting time travelling the world with his minder, John. He's been to lots of places, as well as staying at home in Wales and helping John read stories to children in the library.
Here are some pictures of Mr. Frog on his holidays, at work, and with some famous people.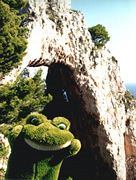 At a big stone arch on the island of Capri in Italy.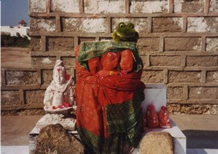 At a Hindu temple on the island of Diu, in Gujarat, India.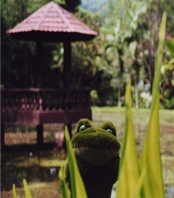 In a rainforest on the island of Penang, in Malaysia.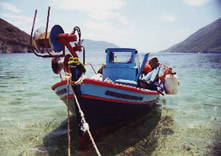 On the island of Lefkada, in Greece.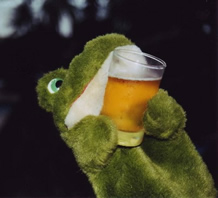 Having a cool drink in Penang!
Click on Mr. Frog to jump to the top of the page!

Gujarat India Diu Pompeii Italy Capri Udaipur India Mr. Frog John Gimblett Penang Malaysia
KL Kuala Lumpar Greece Lefkada Kefkas library Jump tosJtorytime