John Gimblett
Frames, Issues 1 - 6
Covers and Contents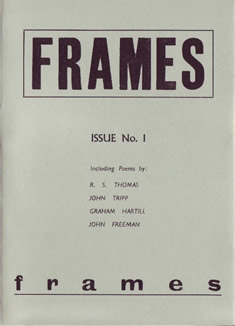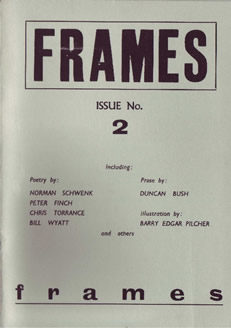 Frames Issue 1:
John Tripp; R. S. Thomas; Dorcas Eatch; Alan Halsey; Jeremy Narduzzo; Paula Cork; John Gimblett;
Graham Hartill; Dawn Mears; John Freeman; Mary Ann Richardson.
Frames Issue 2:
Barry Edgar Pilcher; Norman Schwenk; John Freeman; Peter Finch; Chris Bendon; John Gimblett; Steve Short; Steven Lively; Samantha Edwards; C. K. Walters; Duncan Bush; Chris Torrance; Bill Wyatt; Gill Brightmore; Childe Roland.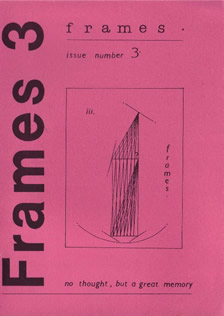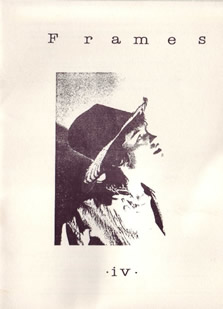 Frames Issue 3:
Carl Tighe; Dannie Abse; Phillip Lively; Alison Bielski; John Tripp; C. K. Walters; Nigel Jenkins; Chris Bendon; Phil Maillard; B. W. Beynon; Steve Short; Sue Moules; Adrian Place; Gill Brightmore.
Frames Issue 4:
M. A. Hibbert; Neal Mason; Barry Edgar Pilcher; Len Mullan; Terry Cuthbert; Christopher Mills; Philip Bounds; John Gimblett; Gwyn Parry; Rupert M. Loydell; Jane Glencross; Alison Chisholm; Sue Moules; Rowena Hulton.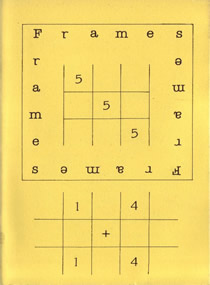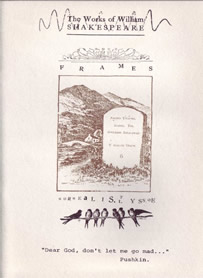 Frames Issue 5:
John Freeman; Chris Bendon; Daniel Meehan; Martin A. Hibbert; Michael Henry; Paul Donnelly; Paul Seabrook; Mike Douse; Rupert M. Loydell; Christopher Mills; John Gimblett.
Frames Issue 6 - The Surrealist Issue:
Downing Street missive; Fred Beake; Martin Hibbert; Chris Bendon; Steven Lively; Alan Halsey; Ivor Cutler missive; Peter de Rous; Tim Holt Wilson; Rowena Hulton; Phil Maillard; John Gimblett; Susan Duxbury; Roland Penrose; Peter Finch; Paul Donnelly; Chris Mitchell; Christopher Middleton; :ee Harwood letters; Exquisite Corpse drawing - JG, Val Torrance, Peter Finch; Samantha Edwards; Vatican missive.

Above, on card to JG from Derek Jarman
This page: background image taken from letter to Frames from John Cage.